Your wedding! The biggest day of your life - and so many details! I remember the feeling well. In additionm to all the details on music, food, people to invite, schedules and such, it is also the day when more people will be focused on you - the bride - that ever before (and possibly after!). Add to that, it is the day you are marrying the man you love and you want every detail of your appearance to be perfect. A lot of pressure.
Seed pearl hand-woven bridal necklace, 2016
Although I can't make all the details fall into place, I hope this article will help you with some of your jewelry and accessories decisions. The jewelry you wear on your wedding day is unique in that it instantly becomes some of your most treasured posessions. The possibility of wearing it again as the years progress is one consideration many of us forget - but it is worth at least some thought. 
We all know the classics, the strand of pearls, little drop earrings, maybe a tennis bracelet. Generally the metals will be white gold, platinum or silver, although some brides do use yellow gold. That is the first thing I'd advise you to consider: what metal do you generally prefer? 
Do you wear yellow gold most of the time? 
Do you wear an heirloom ring or bracelet most of the time that is yellow gold?
Does your skin ton look best with warmer colors?
If you usually wear yellow gold and are considering white gold for your bridal items simply because they look more like wedding jewelry, consider changing your mind. If you go with the yellow gold, and it blends well with other pieces you love and wear often, you will be far more likely to wear your wedding treasures in the future! 
I was leaning strongly to a white gold setting for my diamond and wedding rings. I even had my diamond placed in a white gold 'temporary' setting to wear for awhile while I thought about it. And I am VERY glad I did! I ended up getting a yellow gold setting in the end because I found that my diamond didn't go with anything I usually wear. Sounds dumb, but it didn't occur to me until I actually saw my ring with my other jewelry.
A cheaper alternative? Buy an inexpensive CZ ring in silver and wear it around for a while. Look at it with your other jewelry and your clothes. Does it look natural?  Or does it sort of stick out and look odd. 
Once I decided about the ring, the rest was easier. Once I decided on yellow gold, the next choice was about color and stones and style for other pieces. 
The Dress Informs the Design
My dress was a classic A line, three quarter sleeves, V neck, full skirt, approximately anklet length. The wedding was held in the morning, in a garden. To look balanced, the lines of the dress had to "inform" the decisions about accessories, including jewelry. 
The V neck called out for a short, simple necklace. I opted for a classic strand of pearls, but I wanted a little color to give my over 40 face a little lift.  The solution: a strand of blush pearls with tiny, faceted rhodolite garnets between each pearl for a little rosy note. The tiny garnets were used in place of the knots you see on most pearl necklaces. Simple, dainty drop earrings were made to match.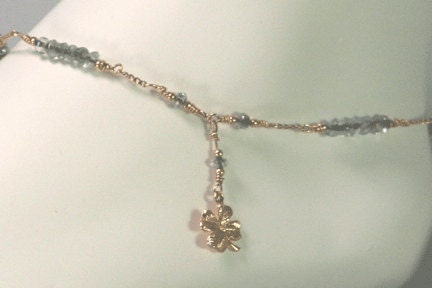 Alison's Something Blue Lucky Anklet, 2003
My wedding was the very first time I made a "something blue" anklet. I had an ankle length dress, so my shoes and ankles were visible. I always loved anklets, so I decided to make one. I didn't have 'something blue' at that point, so I decided to use faceted aquamarine beads. I used yellow gold because I was wearing it in my other pieces. Lastly, I had a 14 Kt 4-leaf clover that I worked into the anklet as a drop off the outside. The "something blue lucky wedding anklet" was born. I have made countless numbers of these for friends and customers all over the world in the years since that first one.
The anklet I made for my wedding is something I take out and wear for special occasions to this day. I love putting it on with sun dresses and skirts in warm weather. Each time I put it on I remember my own wedding day and enjoy the subtle sparkle of the aquamarine beads. And my little 4-leaf clover still brings me luck today! At lest I think it does.
In the final analysis, your wedding day is an expression of you - your taste, your likes and the colors and styles that speak to you. It is very easy to be swayed by the latest fad or some new trend in a bridal showroom, but if you step back and look at your style, the way you like things to look, and pick pieces that work with that style, you are far more likely to find yourself taking the jewelry out again and again as the years go by and enjoying it for many years to come.